Buy ExxonMobil (XOM) DSPP Stock Through ComputerShare
By Sun
I am still expanding my stock investments, this time through the DSPP program at ComputerShare.
Yesterday, I added ExxonMobil (XOM) to my regular purchase list with a monthly purchase of $100 of the stock. The reason that I want to buy it through a DSPP program rather making a one-time purchase like I did with my other stock trades through a broker is that I am buying the stock mainly for its dividend payout, which is currently at $1.68/share. XOM is also one of S&P 500 dividend aristocrats, which is a class of stocks that have increased their dividends for at least 25 years in a row. That's very impressive if you look at how the stock market overall has changed in the quarter-century period. As the world's largest integrated oil company, XOM has certainly benefited from the strong demand for oil and high oil price in recent years. And with developing countries such as China and India purchasing more and more oil to feed their booming economies, big oil companies like ExxonMobil will keep thriving for years to come. Maybe another 25 years of increasing dividend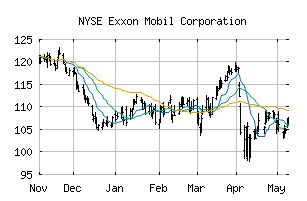 The stock has come down quite a bit from its 52-week high, but I still don't have the fund to purchase the number of share I would love to have, so I decide to go with the gradual approach
That is, buying a small amount every month to begin investing in the company and adding little by little over time. Yes, that's the dollar-cost averaging (DCA). Since I will buy the shares through a DRIP program rather than from a discount broker, I pay no commission for each purchase, even though each transaction will be small, and that makes DCA possible.
The XOM DSPP program offered through ComputerShare has a minimum one-time  purchase of $250, which is much more afford for small investors who can't throw in a lot of money at the beginning, but the amount reduces to $50 when using automatic purchase plan, which I use. Other fees of the program include:
Initial Setup Fee: $0.00
Cash Purchase Fee: $0.00
Ongoing Automatic Investment Fee: $0.00
Purchase Processing Fee (per share): $0.00
Dividend Reinvestment Fee: Company Paid
Batch Sale Fee: $15.00
Batch Sale Processing Fee (per share): $0.12
Batch Maximum Sales Fee: N/A
Market Order Sale Fee: $25.00
Market Order Processing Fee (per share): $0.12
Market Order Maximum Sales Fee: N/A
As I mentioned in my ComputerShare review post, many plans, such as AT&T DSPP plan, offered through ComputerShare charge fees to setup the account, purchase additional shares, and reinvest dividend. I am not interested in paying any those additional fees to buy DRIP stocks because that will make the cost of buying stocks with a DRIP plan higher than using a discount broker with free dividend reinvestment, like TradeKing.
Actually, in addition to XOM, I am also interested in another DSPP stock, Boston Properties (BXP), which I had on my radar for quite a long time. The dividend payout $2.72/share is even sweeter. Unfortunately, it looks like the company is going to cut the dividend to $.50 soon. So, I am going to wait on this.
*Stock chart from INO
This article was originally written or modified on . If you enjoyed reading this post, please consider subscribing to my full RSS feed. Or you can also choose to have free daily updates delivered right to your inbox.